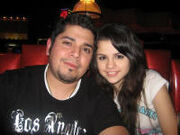 Selena Gomez is awesome. This is Emylea Hill BTW....... E.H. WAS HERE!!! Take that suckers!!
Brian Teefy
Edit
Brian Teefy entered Selena Gomez's life when he married her mother, Mandy Cornett on May 18, 2006. Many of his family call Detroit, Michigan home. Brian shined as a track star at his high school alma mater, Detroit Catholic Central High School. Brian Teefey graduated from Wayne University, a research institution in the Detroit Metro area. At this time, Brian serves as the Vice President for his wife's production company, July Moon Productions.
Debbie Jean Gibson
Edit
Debbie Jean Cornett nee Gibson is Selena Gomez's maternal grandmother.
David Michael Cornett
Edit
David Michael Cornett is Selena Gomez's maternal grandfather.
Ad blocker interference detected!
Wikia is a free-to-use site that makes money from advertising. We have a modified experience for viewers using ad blockers

Wikia is not accessible if you've made further modifications. Remove the custom ad blocker rule(s) and the page will load as expected.